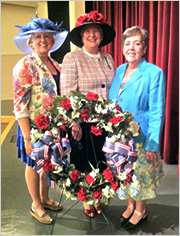 St. Louis-Jefferson Chapter DAR
The St. Louis-Jefferson Chapter, National Society Daughters of the American Revolution (NSDAR or DAR), has served the St. Louis community since 1895. We are the oldest and largest chapter in the St. Louis area.
Our local activities support the NSDAR mission to "promote historic preservation, education, and patriotism."
Join Us
The St. Louis-Jefferson Chapter welcomes new members! For membership eligibility, see our membership page.
Please contact us for more information on DAR and interested in attending our meetings. Or, contact our chapter registrar if you are interested in DAR membership and joining our chapter.