Real Daughters of the St. Louis-Jefferson Chapter
Our chapter was privileged to have seven Real Daughters as members. A Real Daughter is a DAR member whose father was a soldier or patriot who rendered service to the American Revolution. The Real Daughters of our chapter were:
Eveline Paddock (Miss)
b 8 September 1803, Vermont, and d 25 March 1900. Her father was Gaius Paddock (MA). Both are buried in the Paddock Cemetery, Paddock's Grove, Madison County, Illinois.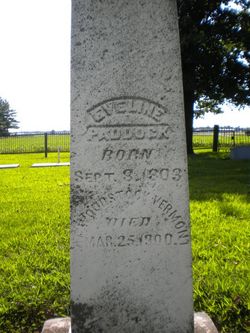 Elizabeth Cobb Avis (Mrs. Thomas)

b 9 August 1809, Maine, and d 13 April 1901, St. Louis, Missouri. She married Thomas Avis and they are both buried in Bellefontaine Cemetery, St. Louis. Shown below is the illustrated portrait of Elizabeth Cobb Avis (left) that was published with her obituary in the St. Louis Post Dispatch. Her father was Thomas Cobb (MA). Her grave is marked with a DAR Real Daughter marker.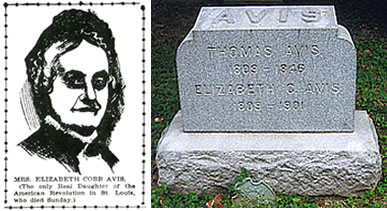 Isabella Brown Tallman (Mrs. Charles)

b 27 May 1813, Pennsylvania, and d 7 February 1905, Miller County, Missouri. She is buried in Tallman Cemetery, Miller County, Missouri. She was the daughter of William Brown (PA).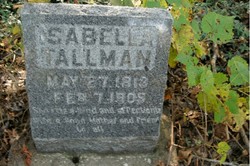 Catherine J. Chambers Pulliam (Mrs. John C.)

b 1815, and d February 1905. She is buried in Ridge Park Cemetery, Marshall, Saline County, Missouri. Her father was Benjamin Chambers (PA). (Photo: Marshall Chapter DAR, Marshall, Missouri)


Amanda Rector Kennedy Tillson (Mrs. Levi)

b 28 November 1817, and d 1 February 1905, Washington County, Missouri. She and her husband are buried in Pleasant Hill Cemetery near Potosi, Missouri. Her father was Thomas Kennedy (SC). (Photo: Patsy West)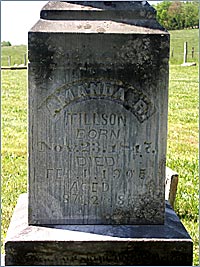 Elizabeth Sharp Talliaferro McClelland (Mrs. Samuel)

b 24 April 1805, Ohio, and d 2 August 1900, Missouri. She is buried in Rountree Cemetery, Springfield, Greene County, Missouri. Her father was Richard Talliaferro (VA). (Photo: Rachel Donelson Chapter DAR, Springfield, Missouri)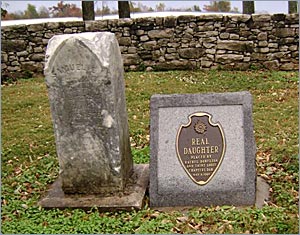 Mary Magdalene Birch Shawhan Dudley (Mrs. Abraham F.)
b 14 February 1818, Kentucky, and d 1909, Missouri. She is buried in the Old Plattsburg Cemetery, with her husband, in Clinton, Missouri. Her father was Thomas Birch (VA). (Photo: University of Missouri at St. Louis, Special Collections, used with permission; chapter scrapbook.)