American History and Historic Preservation
Barbara Wilson Honored with Women in American History Certificate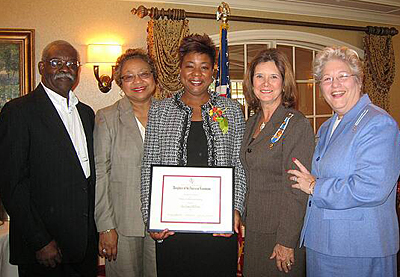 Left to right: Bobby Wilson, Billie Wilson, Barbara Wilson, Maripat Monterubio, and Peggy Strelinger.
The chapter honored Barbara Wilson, director and program manager for Boeing Company's T-45 Training System Program, for her outstanding leadership in St. Louis. She serves on the boards of the Saint Louis Zoo and St. John's Mercy Foundation and as the Boeing executive liaison to Tuskegee University. She is a mentor for the Mathews-Dickey Boys and Girls Club and a volunteer with Big Brothers Big Sisters. The St. Louis Business Journal recognized her as one of the city's "Most Influential Business Women of 2009." Ms. Wilson says that one of the most rewarding parts of her job is knowing that she plays a key role in leading hard-working, dedicated Boeing employees in their mission to support the U.S. military.

Daniel Boone Trail Markings
Four Daniel Boone Trails in the St. Louis area were marked by MSSDAR in 2010. Shown below is the marking of the eastern trail head of The Fort Osage Trail. The marker is located in St. Charles, Missouri, in a small park in the historic district honoring Daniel Boone. St. Charles was the first capital of Missouri.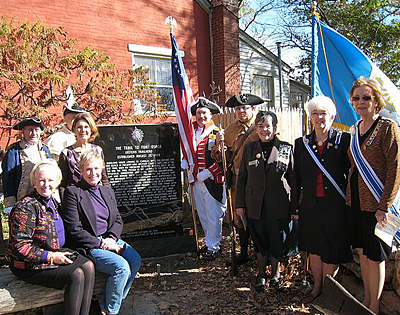 Front from left to right: Ann Babington, Melissa Higgs, Patsy West, Honorary State Regent Lemira Parks, and Past Historian General Margaret Drummond MacKenzie. Second row, standing: The Spirit of St. Louis SAR Color Guard and Maripat Monterubio.

NSDAR Historic Preservation Medal Awarded
Jane Piper Gleason was awarded the NSDAR Historic Preservation Medal for her long-standing work as a volunteer with Tower Grove Park in St. Louis. The presentation ceremony was held in October 2009, in front of the Piper Palm House. Karen Bode Baxter, President, Missouri Alliance for Historic Preservation was the featured speaker.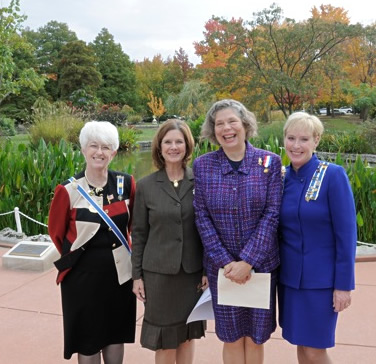 Shown left to right: Honorary State Regent Lemira Stubbs Parks, Maripat Monterubio, Jane Piper Gleason, and Melissa Higgs.
Chapter Historic Markers
Chief Pontiac, Great Chief of the Ottawas
1901, Marble tablet with bronze plaque commemorates Chief Pontiac, Great Chief of the Ottawas, who died near St. Louis in 1769. This was the first historic marking by a DAR chapter in Missouri. The chapter continues to try to locate the tablet, which was originally placed at the Southern Hotel in St. Louis.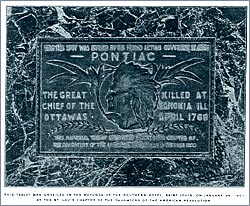 Unknown Revolutionary War Soldiers Grave Marker and Plaque
1904, Large red Missouri granite boulder with a plaque in memory of 26 unknown Revolutionary War soldiers who died between 1808 and 1828 while serving at Fort Belle Fontaine in north St. Louis County, Missouri. The remains were moved to Jefferson Barracks National Cemetery in 1904. In 2003, the chapter rededicated the marker.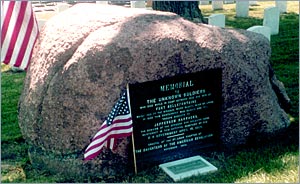 St. Louis Spanish Expedition Victory Against the British in 1781
1903, Copper tablet commemorating the victory of the Spanish expedition from St. Louis to a British fort at St. Joseph, Michigan, on 2 January 1781. The tablet was created by Antoinette Pierson Taylor, a noted St. Louis artist who was a chapter member. The marker was given to the Missouri Historical Society. In 1905, a white marble tablet (on the right) commemorating the same battle was placed on Old Government House in St. Louis. The marker disappeared when Government House was demolished.
Agricultural and Mechanical Fair
1911, Missouri granite boulder, with plaque, commemorating the site of the first Agricultural and Mechanical Fair held west of the Mississippi River in 1856. It is located in Fairgounds Park in St. Louis. The chapter is replacing the plaque. (No photo available.)
Great Seal of the State of Missouri
1912, A painted replica of the Great Seal of the State of Missouri was presented to the Missouri Historical Society.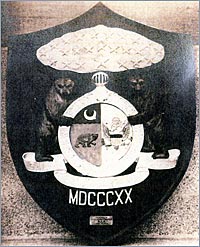 Colonel Samuel Hammond, First Military Commandant of St. Louis
1913, Tablet honoring Colonel Samuel Hammond, first military commandant of St. Louis (1804). The tablet is located at the Missouri Historical Society's Jefferson Memorial Building.
Boone's Lick Road Historic Trail
1913, Historic marker commemorating the beginning of Boone's Lick Road, first used in 1764. It is located in Keiner Memorial Plaza in downtown St. Louis.
World War I Veterans
1922, Large tablet in honor of the St. Louis men who died or were wounded in World War I. It is located in the lobby of St. Louis City Hall.
Governor Frederick Bates, First Territorial Governor of Missouri
1926, Grave of Frederick Bates (1777-1825) , Governor of Missouri 1824-1825, was marked, and is located in Faust Park in St. Louis. It was rededicated in 2005.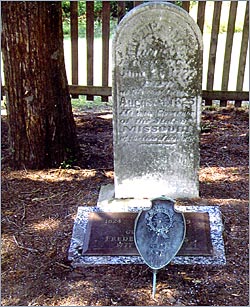 World War I Gold Star Court of Honor
1928, Donated the Gold Star Court of Honor, 14 trees with bronze markers containing names of St. Louisans killed during service in World War I. Destroyed for a construction project.
American Revolution Bicentennial
1976, American Revolution Bicentennial plaque, located at the Old Courthouse, St. Louis, Missouri.
Lewis and Clark Expedition Bicentennial
2006, Lewis and Clark camped at Camp Belle Fontaine on their return from the expedition. Fort Belle Fontaine is located on the Missouri River in north St. Louis County.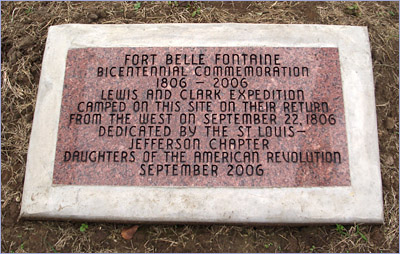 Patriot Walk Trees and Markers
The chapter planted ten trees in Millennium Park. Each tree will be marked with a plaque honoring veterans of American wars. The first plaque, honoring veterans of the American Revolutionary War, is shown below.