Patriotic Activities
Veterans Day at Jefferson Barracks National Cemetery


St. Louis Fisher House
Fisher Houses™ are "comfort homes," built on the grounds of major military and VA medical centers, to enable family members to be close to a loved one during the hospitalization for an unexpected illness, disease, or injury. The St. Louis-Jefferson Chapter raised and donated $7,500 for construction of a St. Louis Fisher House located at the Jefferson Barracks campus of the St. Louis VA Medical Center. The house, a 20-bedroom residence, overlooks the Mississippi River and is staffed by volunteers. It opened in September 2010.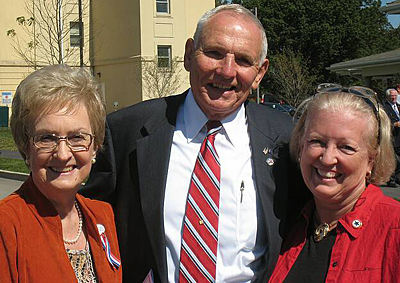 Left to right: Shirley Bowling, Jim Donahoe, St. Louis Fisher House President, and Ann Babington at the opening of Fisher House in St. Louis.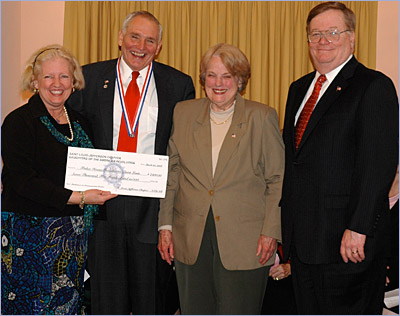 Left to right: Ann Babington, Jim Donahoe, St. Louis Fisher House President, Doris Johnston, and Glen Struchtemeyer, Medical Center Director, Jefferson Barracks Medical Hospital.
Patriot Walk Trees Honor Veterans of All American Wars
The chapter planted ten trees along a Patriot Walk in Millennium Park in Creve Coeur, Missouri, to honor the service of American men and women in American wars. A plaque will be added each year until all of the trees are marked. The marker below honors Revolutionary War soldiers and patriots.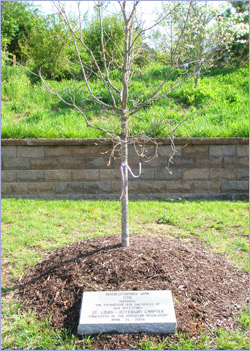 Jefferson Barracks Cemetery - Monument to Unknown Revolutionary Soldiers
The St. Louis-Jefferson Chapter donated and marked a large Missouri granite boulder at Jefferson Barracks Cemetery to honor the unknown Revolutionary War soldiers buried there. The soldiers were moved to Jefferson Barracks Cemetery when Fort Belle Fontaine, the original burial site, was closed. The chapter honors these soldiers with a program and the placing of a wreath at the foot of the boulder each Veterans Day.